BlancheTilden

créatrice de bijoux
Born (1968), Kiama NSW. Lives Melbourne Australia

TRAINING

1996
Australia Council Traineeship Susan Cohn Workshop 3000, Melbourne

1995
Graduate Diploma of Art Gold and Silversmithing Canberra School of Art ANU

1992
Bachelor of Art (Visual) Glass Canberra School of Art ANU

1988/89
Undergraduate Studies Glass and Jewellery Sydney College of the Arts

COLLECTIONS
Australia : Art Gallery of South Australia, Adelaide ; Art Gallery of Western Australia, Perth; Canberra Museum and Art Gallery, Canberra; National Gallery of Australia, Canberra; National Gallery of Victoria, Melbourne; Powerhouse Museum of Applied Arts and Sciences, Sydney ; National Art Glass Collection, Wagga ; Queensland Art Gallery, Brisbane ; Territory Craft, Alice Springs; Toowoomba Regional Art Gallery, Toowoomba.

USA
Corning Museum of Glass, Corning, New York; Toledo Art Museum, Toledo, Ohio.

Artits statement 
"It is the response of the wearer that makes my jewellery succeed for me. The connection that can develop once a necklace becomes precious to someone else, once it becomes part of their persona, their life, their experience, is the aspect of my practice that I value the most. The connection between the maker and the wearer is a highly valued aspect of making jewellery for Tilden. Her work explores the social and cultural context of jewellery, and its ongoing life as personal adornment. The history of technology, mechanical devices, industrial production and the built environment continually inspire Tilden's jewellery. Her innovative approach to glass as a material for jewellery and focus on repeating elements draw on observations of the everyday and the impact of technology on contemporary life. Tilden references the visual language of the machine made to examine the value of handmade objects in a world full of mass production. Her handmade chains discuss the potential of the chain as a mechanism for understanding ourselves." 

Déclaration de l'artiste : 
"La réaction de celui ou celle qui porte mes bijoux fait que c'est pour moi une réussite. Quand un collier devient précieux pour quelqu'un d'autre, qu'il devient partie intégrante de sa personnalité, sa vie, son expérience, c'est le coté de mon métier que j'apprécie le plus. La connexion entre le créateur et l'utilisateur est un aspect très important de la fabrication du bijou. Mon travail explore le contexte social et culturel du bijou, et sa durée de vie continue comme une parure personnelle. La technologie, la mécanisation, la production industrielle et l'environnement bâti m'inspirent continuellement. Mon approche du verre en tant que matériau pour la bijouterie et la concentration sur les éléments répétitifs viennent d'observations de la vie quotidienne et de l'impact de la technologie sur la vie contemporaine. Le langage visuel de la machine permet d'examiner la valeur des objets faits à la main dans un monde rempli de production de masse. Ces chaînes faites à la main montrent le potentiel de la chaîne en tant que mécanisme pour nous aider à nous comprendre."
---
Cette artiste a participé rue Paul Fort à :
L'exposition "Au-delà du précieux, au-delà des mers"
en septembre octobre 2013
---
Photos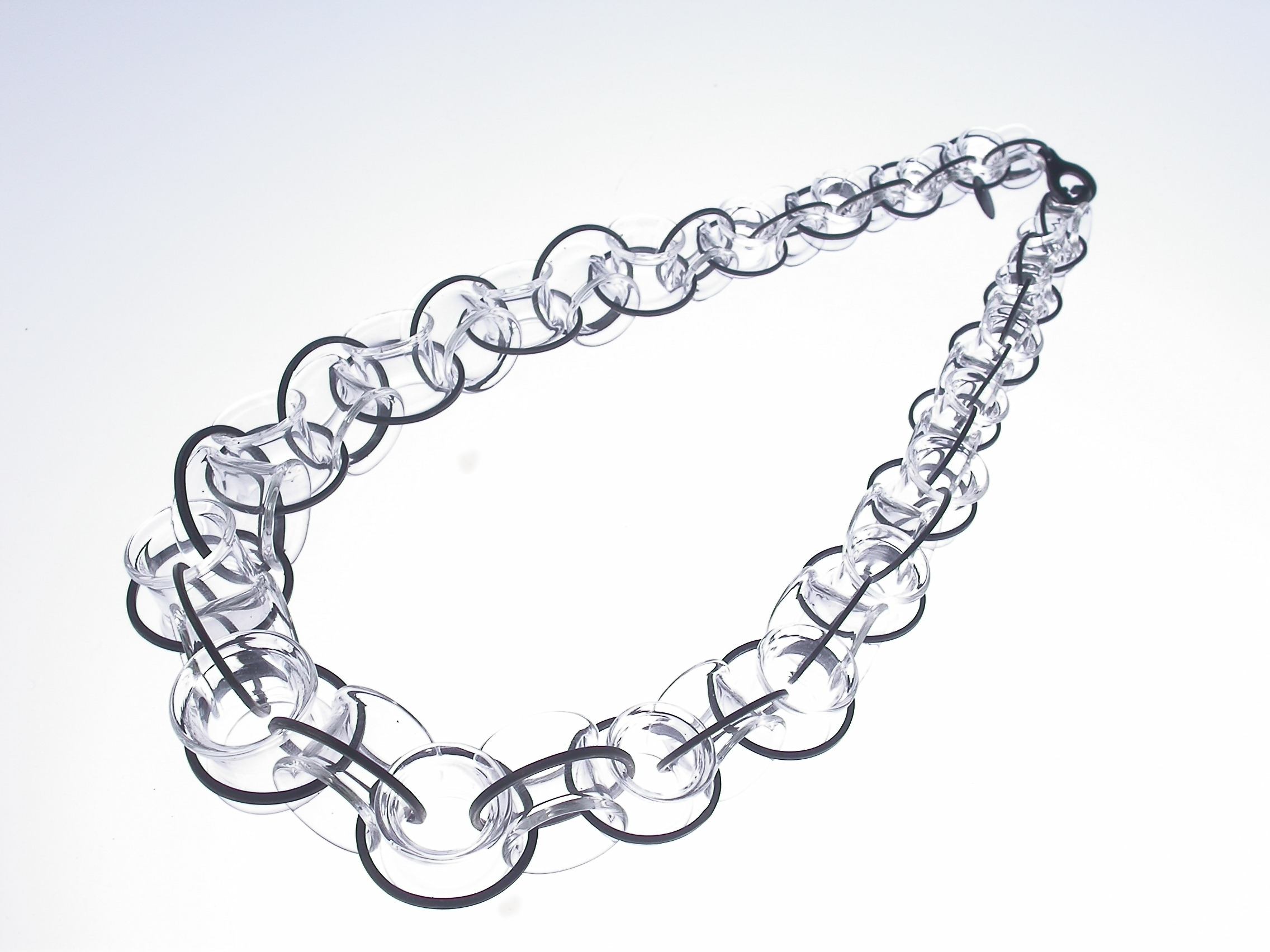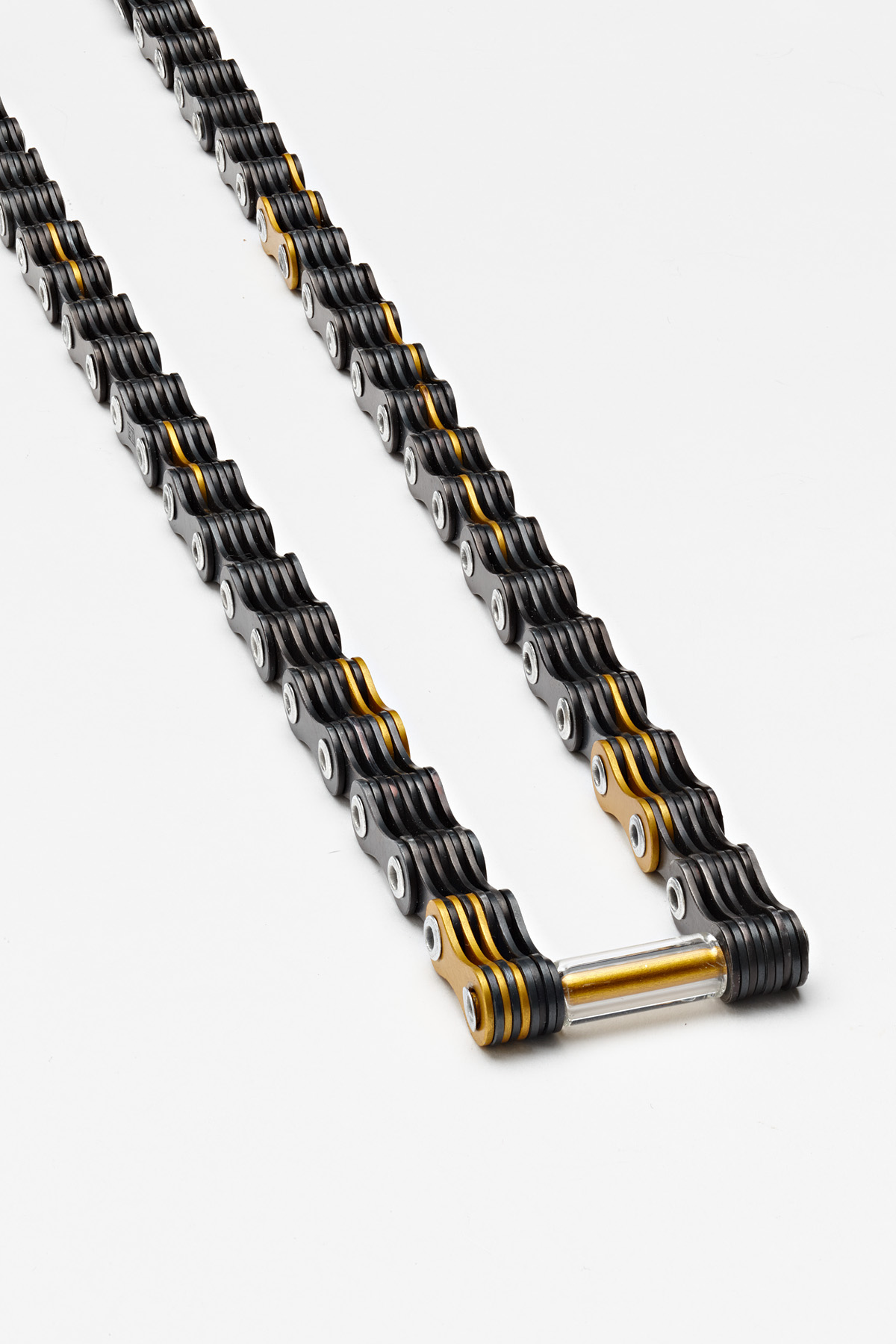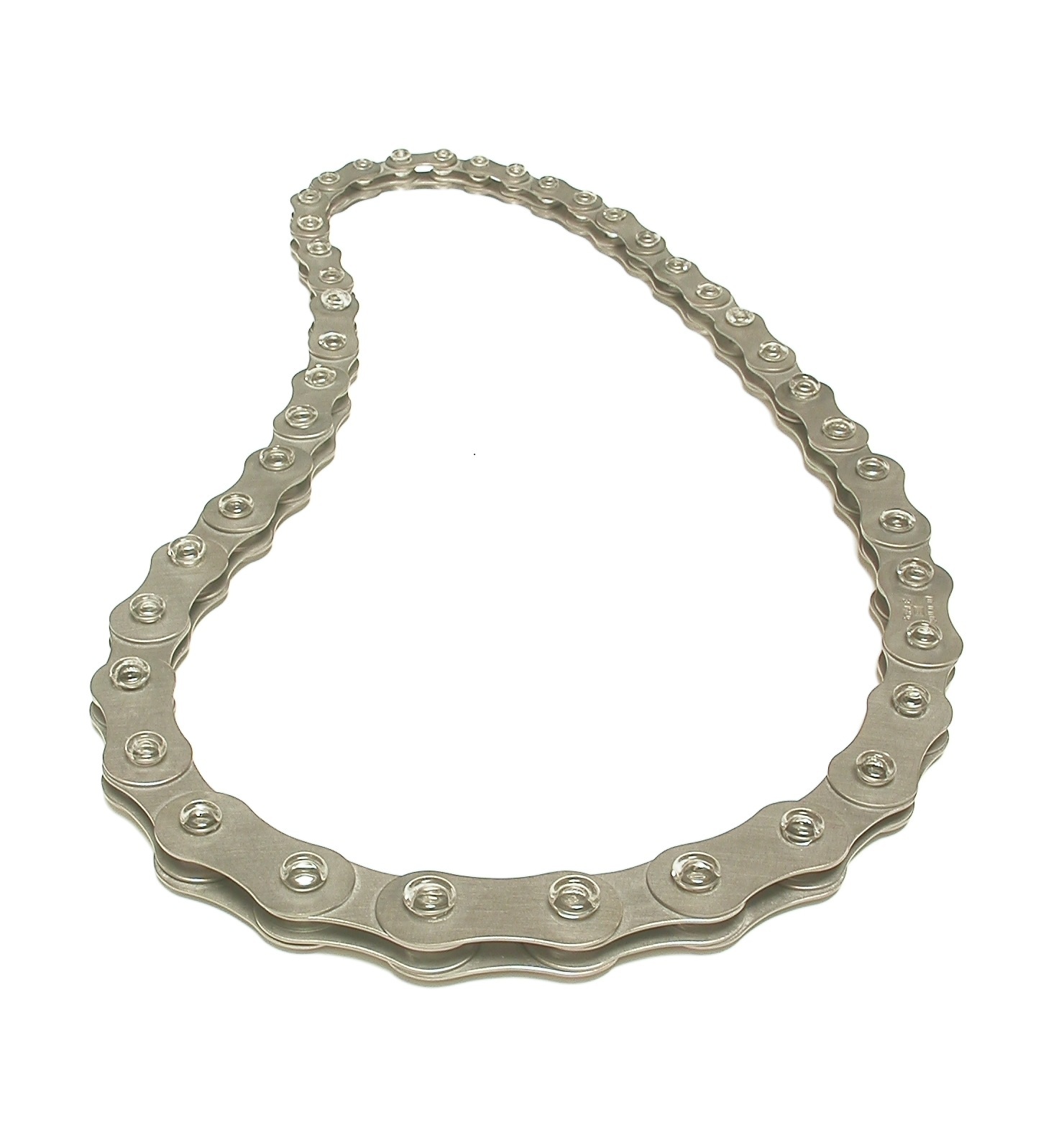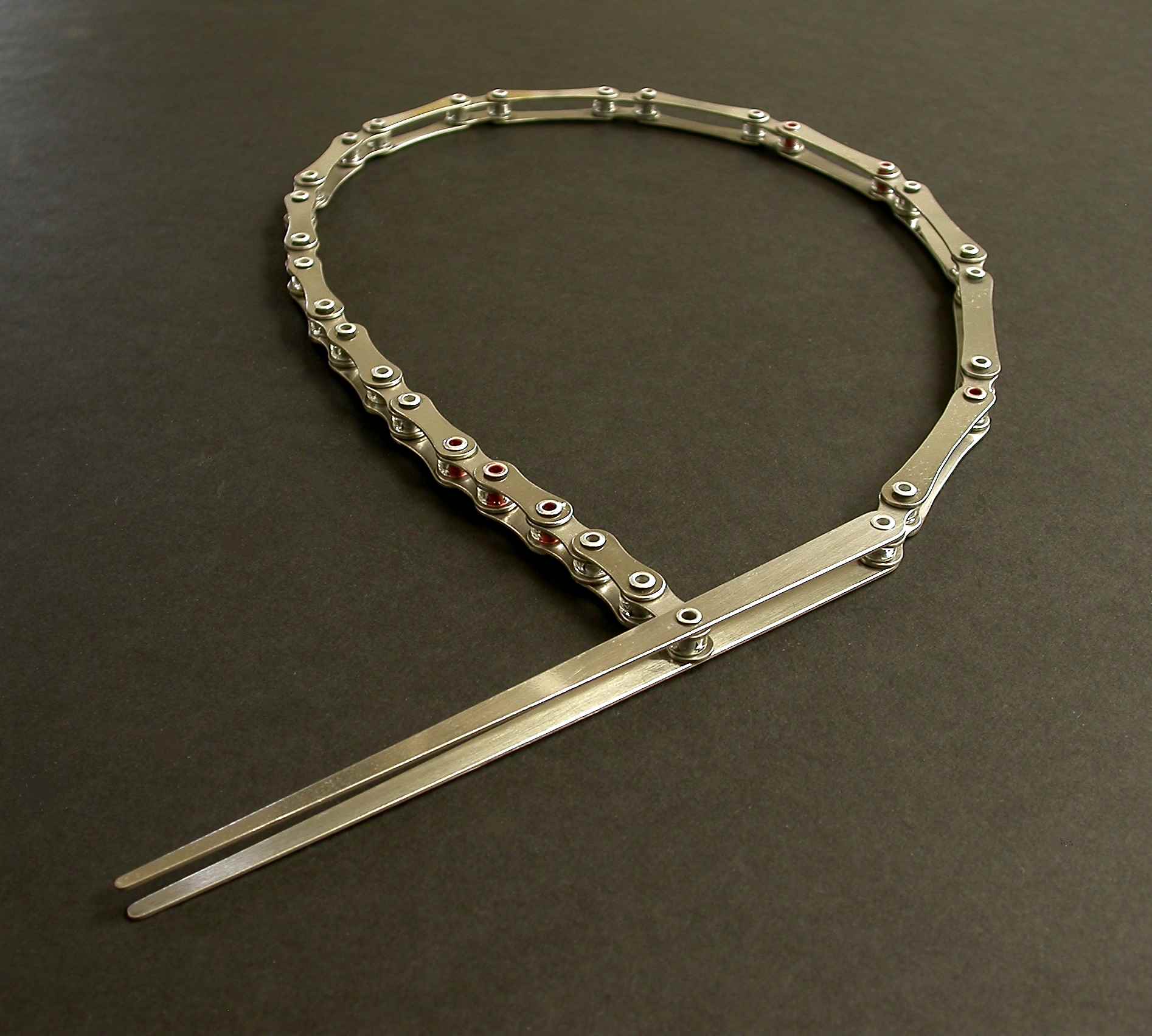 Speed necklace Borosilicate glass, titanium, anodised aluminium 12mm high x 240mm diameter. Photo : Marcus Sholz.

« Speed » verre borosilicate, titane, aluminium anodisé 12mm x 240mm . Photo : Marcus Sholz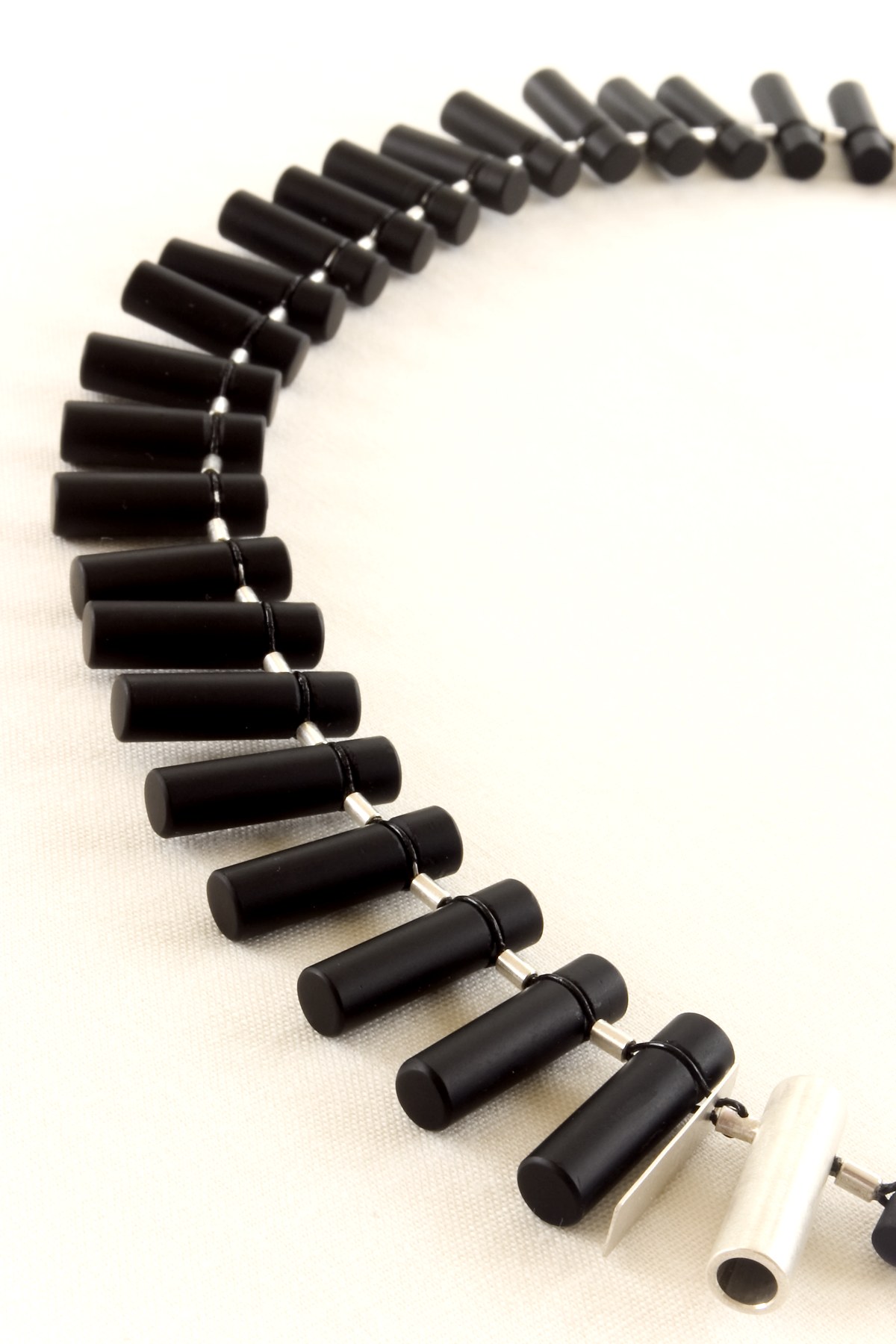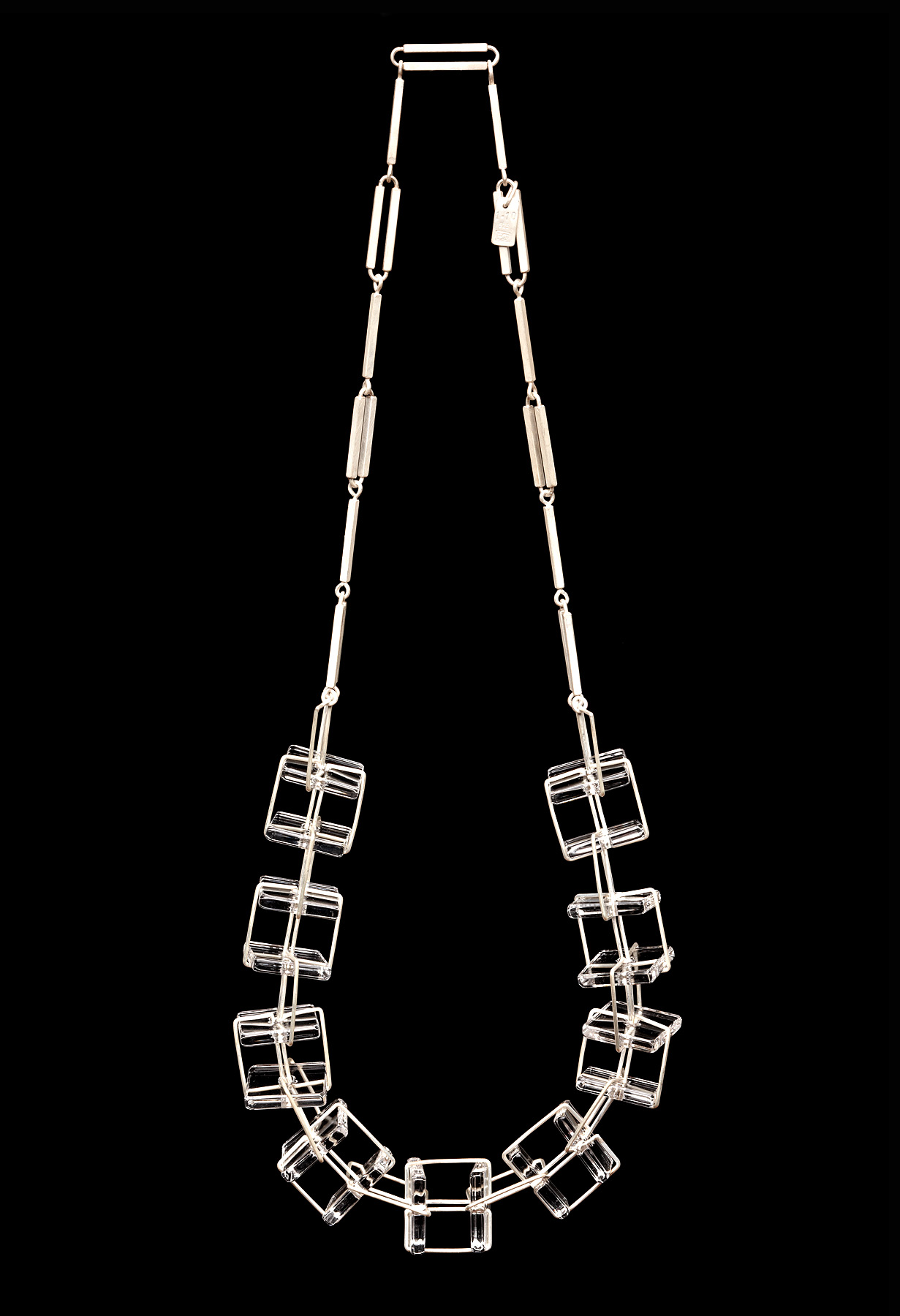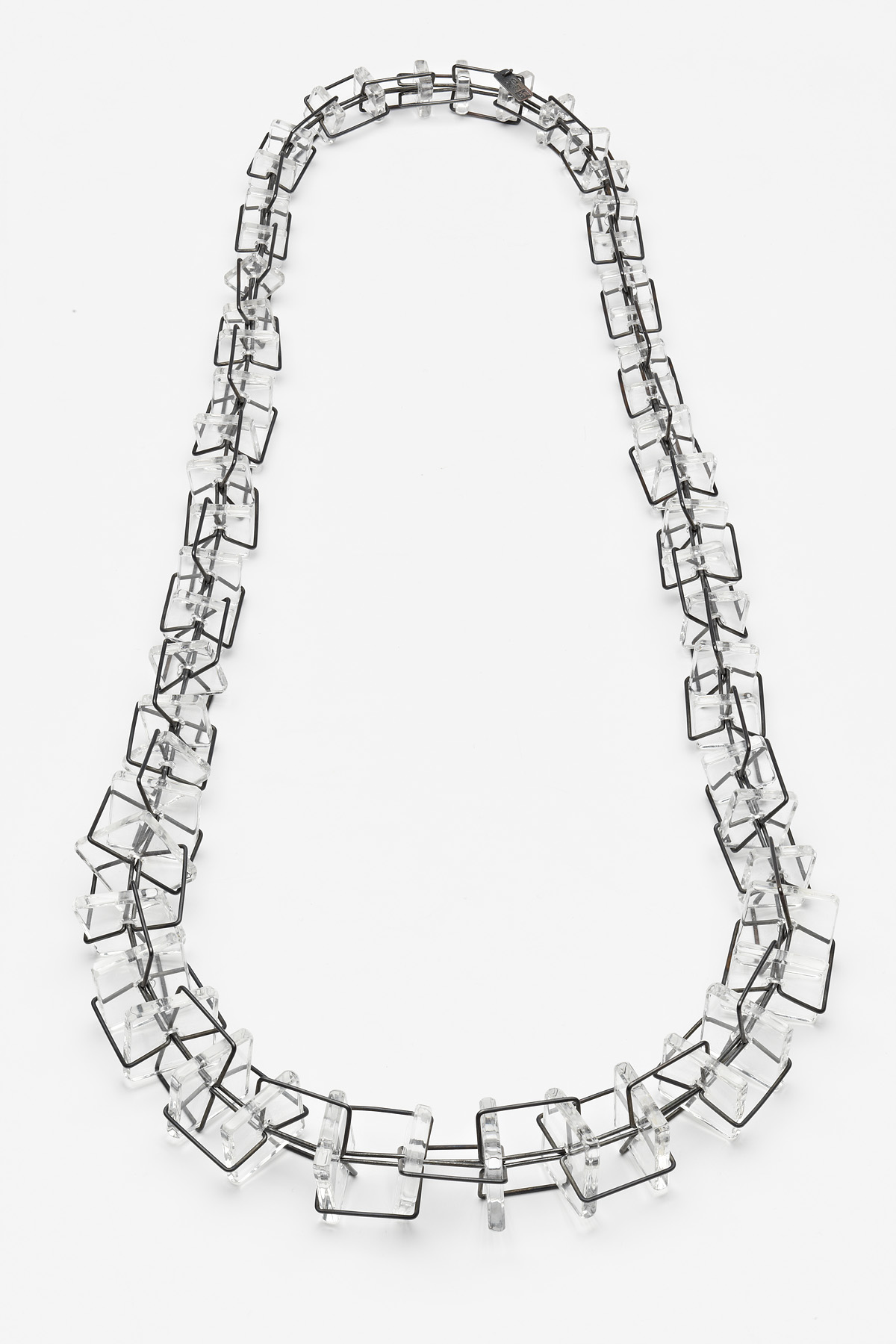 Graded palais necklace. Photo Jeremy Dillon.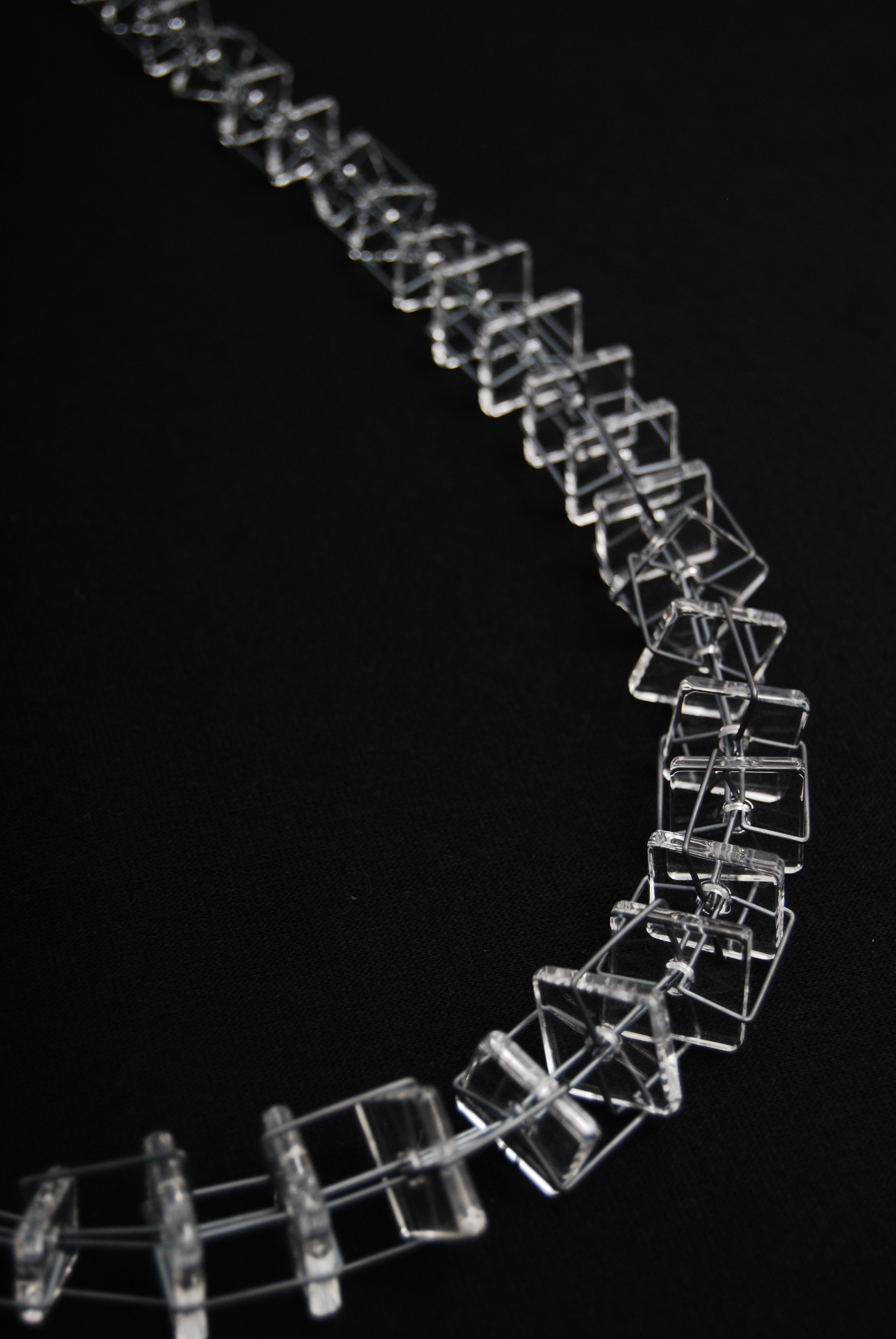 Graded Palais necklace (detail) borosilicate glass, oxidised 925 silver 12mm high x 280mm diameter. Photo : Marcus Sholz.
« Graded Palais » (détail) verre borosilicate, argent oxydé 925 12mm x 280 mm de haut diamètre. Photo : Marcus Sholz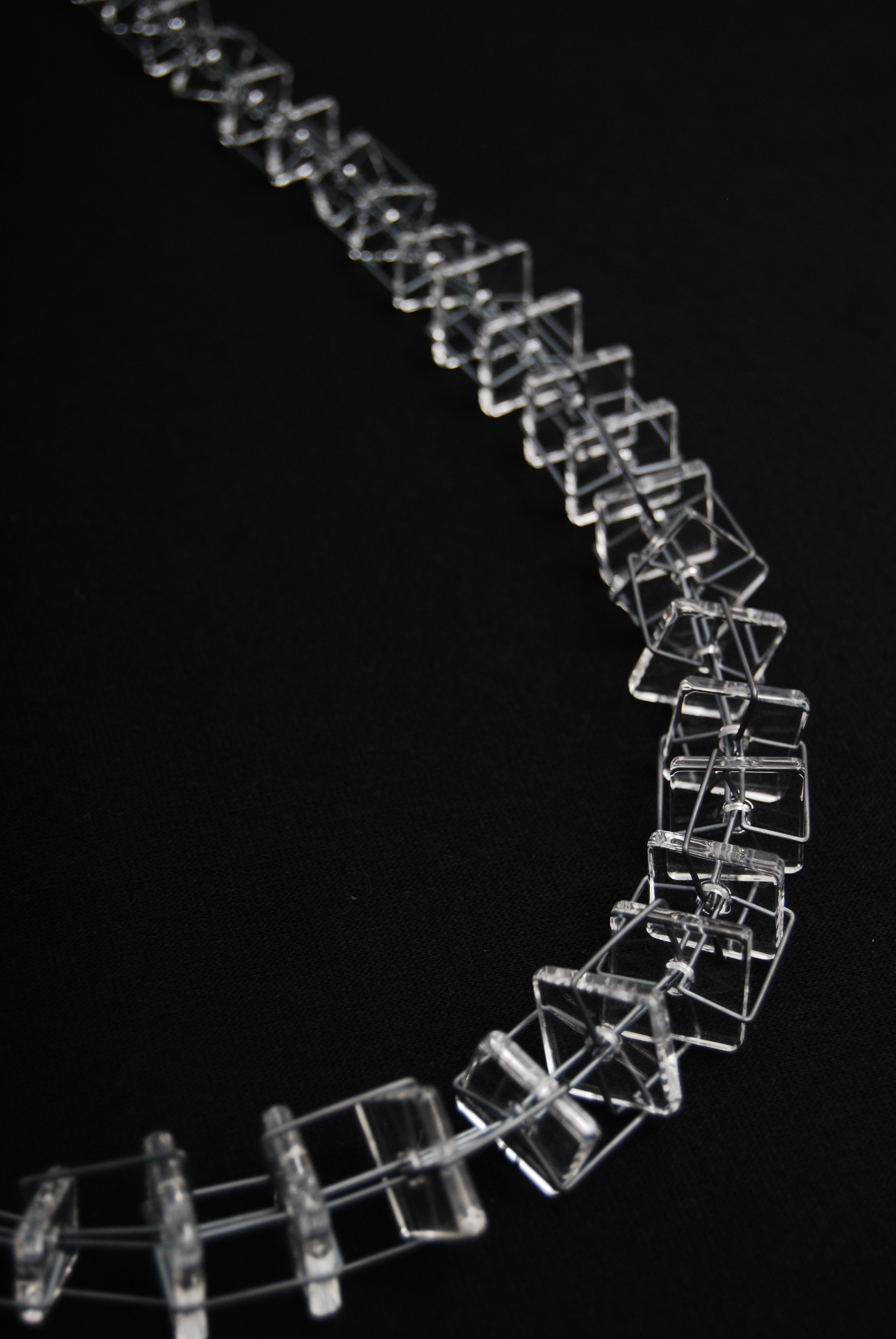 Paxton necklace Borosilicate glass, oxidised 925 silver 10mm high x 250mm diameter Photo : Marcus Sholz
« Paxton » verre borosilicate, argent oxydé 925 10mm de hauteur x de 250mm de diamètre Photo : Marcus Sholz