Liana Pattihis

créatrice de bijoux
Born (1961), lives and works in London UK


Education

2003-2007
BA (Hons.) Jewellery design Middlesex University (leadership Caroline Broadhead)

2001-2002
Part time Jewellery Design Course at Central Saint Martin's College of Art and Design

1982-2001
Worked freelance as an Interior Designer

1980-1982
Transfer to Interior Design course at North London Polytechnic

1979-1980
Interior Design, Birmingham University

1978-1979
Foundation course in Art and Design, Birmingham Polytechnic


Collections

US
Museum of Arts and Design (MAD) New York

Italy
Fondazione Cominelli.


My perspective on preciousness in relation to my work.
"The processes Liana uses in making her jewellery are ones of building and burying. Layer upon layer of enamel slowly obscure the foundation of silver chains, forming a vitreous crust that is raw, crackly and uneven... The point of delight is, not only that unique, colourful and exciting pieces of jewellery are created, but that the rules of enamelling have been broken and rewritten so successfully…" Caroline Broadhead.
My response to the way in which the materials fuse together is intuitive and impromptu. With each layer the enamel adds form, structure and substance to the piece. The natural fragility of the material exudes a new found strength, richness in texture and an acquired preciousness at the same time as the silver or gold chain is slowly buried into obscurity. The inquisitive attention, tactile approach and numerous juxtapositions, provoke a sense of preciousness in my jewellery that is understated and enigmatic.
Liana Pattihis

Mon point de vue sur la préciosité par rapport à mon travail
"Les processus que Liana utilise pour faire ses bijoux sont ceux de la construction et de l'enfouissement. L'accumulation de couches d'émail fait lentement disparaitre les chaines d'argent et forme une croute vitrifiée, brute, craquante, inégale….. C'est un plaisir, non seulement de découvrir ces bijoux uniques, colorés, passionnants mais aussi de constater que les règles de l'émaillage sont brisés et réécrites avec autant de succès..." Caroline Broadhead
Ma réponse à la façon dont les matériaux fusionnent est intuitive et improvisée. Chaque couche supplémentaire d'émail ajoute forme, structure et contenu à la pièce. La fragilité naturelle du matériau dégage une force nouvellement trouvée, une richesse de texture et acquiert une préciosité en même temps que la chaine d'argent ou d'or est lentement ensevelie dans l'oubli. Une curiosité attentive, une approche tactile et de nombreuses juxtapositions, provoquent un sentiment de préciosité dans mes bijoux qui est énigmatique et discret.
Liana Pattihis
---
Cette artiste a participé rue Paul Fort à :
L'exposition "Au-delà du précieux, au-delà des frontières"
en novembre 2013
---
Photos


Adapted Patterns is a collection based on the simple schematic linear patterns relating to various types of Greek traditional aprons and costumes. The lines are replaced by the enamelled chain which now forms the silhouette of the garment. The collapsible nature of the piece emphasizes its versatility and suggests its dual functionality. One can get involved in either drawing in chain the garment on the canvas provided creating a visual impact, or use the body as a metaphor of the canvas which allows the piece to transform itself as it acquires its new entity as a contemporary piece of jewellery.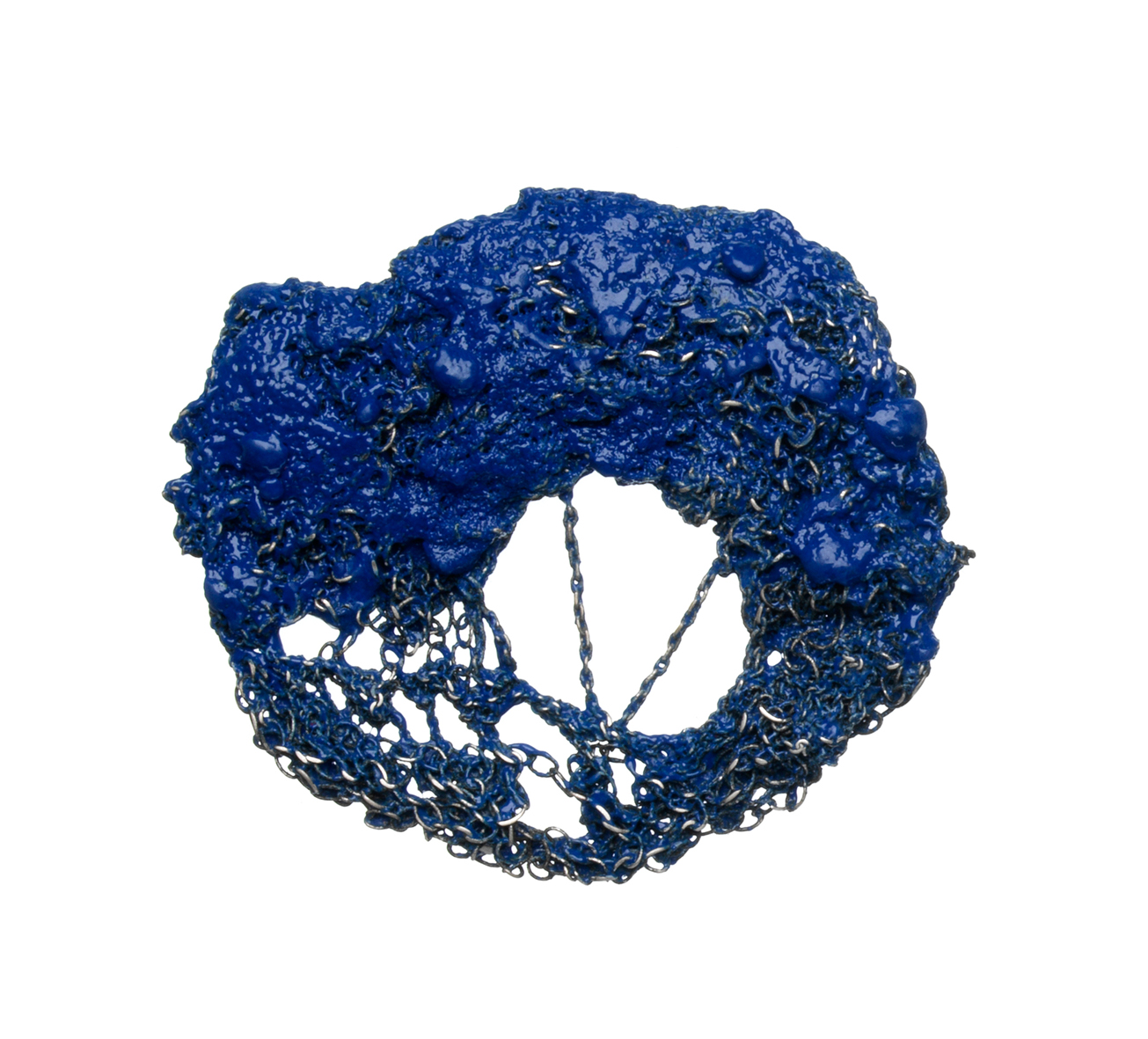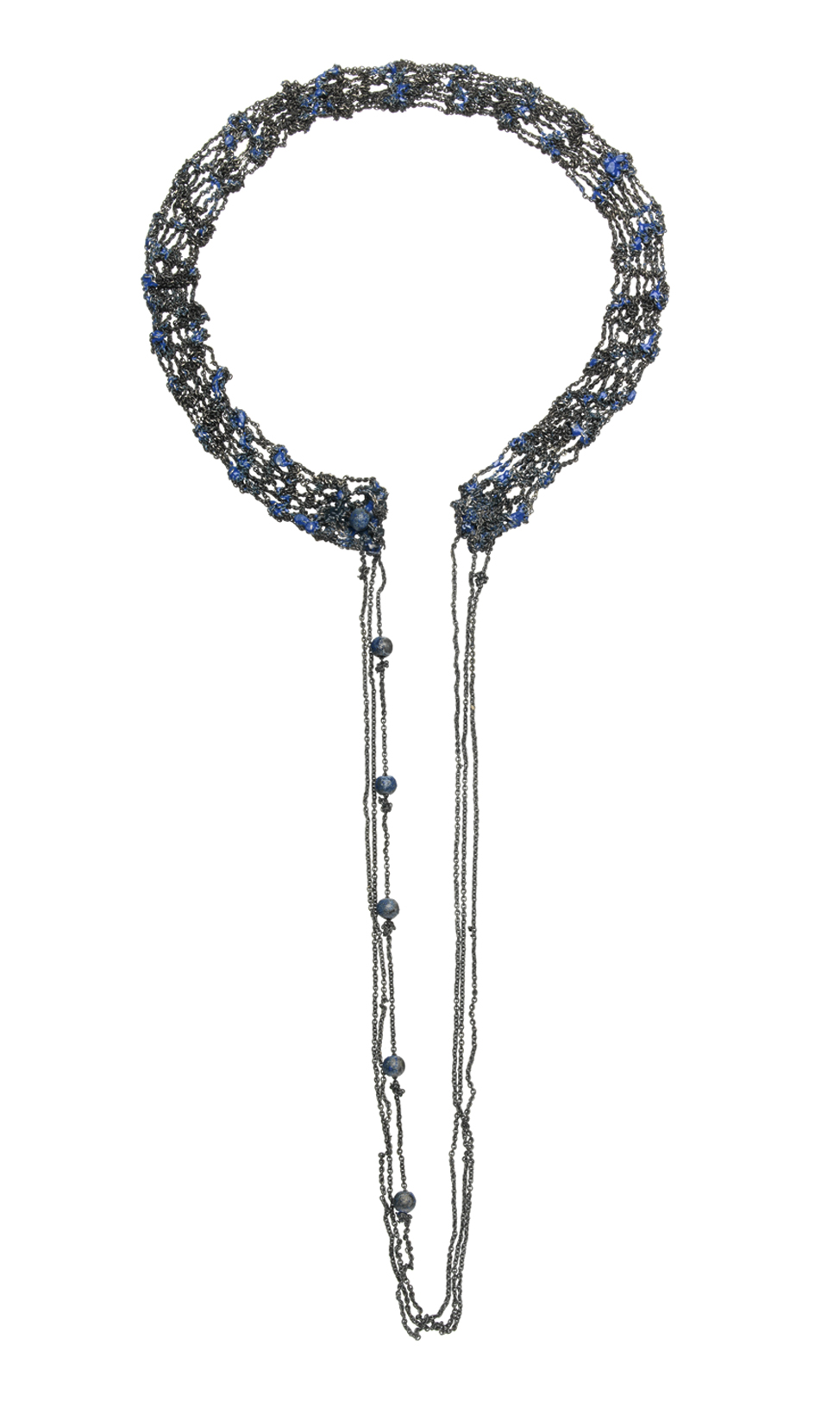 'Istos' Royal Blue Necklace 01, 2012
Silver Light Trace Chain, Enamel. L88.5 cm
Photo : Liana Pattihis
This piece is inspired by the intricate lace
on traditional Greek costumes. The light trace chain
is knitted with knitting needles, enamelled and fired in the kiln.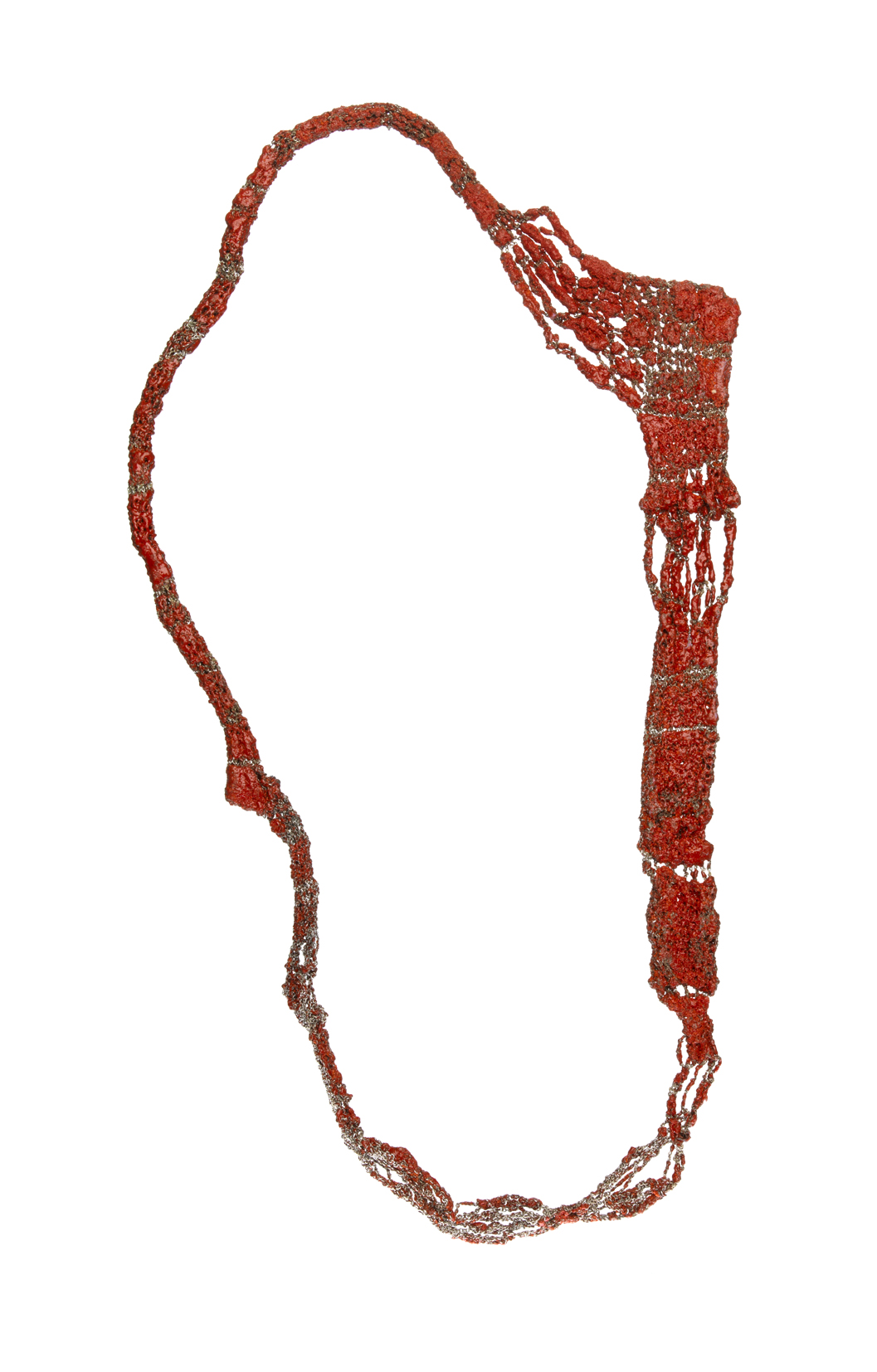 Adapted Patterns - Orange Neckline, 2012 - Silver light trace chain,
Enamel. L78 cm Photo: Liana Pattihis